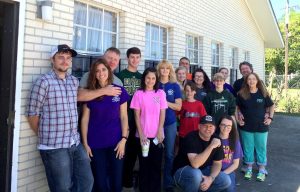 VOLUNTEER
Here's some basic information about this ministry, how you can get involved, and what you can expect.
Visit our EVENTS page to view available volunteer spots.
WHAT DOES THE LOT PROJECT DO?
We serve the homeless population of Baton Rouge by providing worship music, the Word of God, prayer, a meal, and by meeting physical needs. Each LOT Project service is set up like a church worship service. We have worship music, a sermon, and opportunity to receive prayer. Then we serve a hot meal and hand out hygiene items and anything else that has been donated.
WHEN DO YOU SERVE?
We have two service days every month, rain or shine, even on holidays: the 2nd Sunday and the 4th Saturday. In addition to our service days, we also participate in the Harvest Program every Friday.
2nd Sunday's We serve under the I-10 Mississippi River Bridge on Nicholson. It's right across from Pastime restaurant. We meet there at 3:00PM and are done by 5:00PM. We bring the food already cooked. Sometimes our volunteers offer to bring the meal, and sometimes The LOT Project provides the meal. The meal varies, but we have done things like burgers, hot dogs, jambalaya, spaghetti, and soup. Apart from the meal we also bring 6 dozen boiled eggs, 5 bags of cuties oranges, dessert, and drinks. We need 10 or more volunteers to help set up, help serve the food, take prayer requests, pray with folks, visit with folks, clean up, and anything else that comes up that needs doing.
4th Saturday's We serve out of New Sunlight Baptist Church (they let us use their fellowship hall and kitchen!). It's near the corner of North BLVD and 18th Street. We bring food to cook there and serve the same meal every time: eggs, grits, sausage, toast, coffee, and orange juice. We meet at 8:30AM and are done by 10:30AM. We need 5 volunteers to help cook in the kitchen, serve the food, take prayer requests, pray with folks, visit with folks, clean up, and anything else that comes up that needs doing.
HARVEST PROGRAM The LOT Project is proud to be a part of the local Harvest Program in Baton Rouge, where local restaurants contact us when they have excess food to donate to the less fortunate. We pick up the packaged food and deliver it to a local homeless center on Friday's.
We need volunteers for a few hours on Friday's to pick up and deliver the food in Baton Rouge between 11am-12pm.
On the day of your delivery, as soon as we find out if there is food being donated, we will contact you to let you know. We start making calls around 9:45am. You are not guaranteed to have a delivery on the day you sign up, but MOST FRIDAY'S we do get some food!
HOW MANY PEOPLE DO I NEED TO BRING WITH ME TO SERVE?
You do not need to fill all of the volunteer spots on a particular service date in order to come out. If it's just two of you, still come! WE will fill the remaining spots! We have a list of folks just waiting to serve!
DO I NEED TO SIGN UP AHEAD OF TIME TO VOLUNTEER?
Yes, if at all possible please let us know ahead of time if you are coming on a particular date. That way we will know that our volunteer spots are taken care of and we won't "over book" volunteers. ALSO, we do have some volunteers that schedule in advance, especially around holidays. SO, if you think you want to volunteer, go ahead and email us so we can put your name down! That being said, if you decide at the last minute that you are able to come, STILL COME! We'll put you to work!
HOW DO I PREPARE FOR THE SERVICE DATE?
We strongly encourage you to spend time in prayer leading up to your volunteer date. What should you pray for? Well, here are some suggestions… Ask the Lord to prepare your heart to serve and to overwhelm you with compassion for the least of these. Ask the Lord to show up and move in the lives of our friends. Ask him to give you courage and boldness to speak out in his name and to put people in your path that need to hear what you have to say. Pray for the worship, the message, the food, and the volunteers to all glorify the Lord.
PRAY
We collect prayer requests from our friends each time we go out and serve. We ask them to be very specific when filling out their cards. "Size 10 shoes, size 36 pants, a bicycle for work, deliverance from addiction, restoration of my family," etc. We send that list out to our AWESOME Prayer Warrior group via email and we all cover them in prayer. There are so many needs, and it is our honor and privileged to take these requests to our Lord, our provider, on behalf of our friends. The email includes prayer requests, ministry needs, praise reports, etc. So, if you cannot physically serve, you can still pray and meet needs as the Lord leads. If you'd like to get on our email list, send us an email at info@lotproject.org and let us know!
1 Thessalonians 5:17 Pray without ceasing.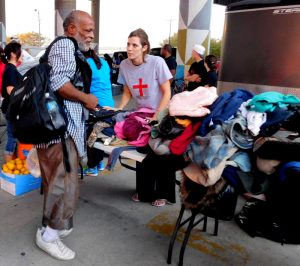 DONATE
Let the LORD lead you!
There are several ways to donate. You may either make a monetary contribution or you may donate items. Just to give you an idea, breakfast costs about $75 per month and dinner costs about $200 per month.
Click on our DONATE page to learn how you can contribute to The LOT Project!