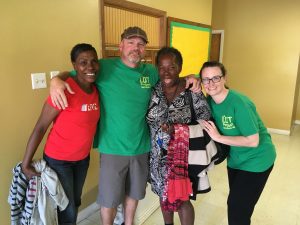 The Lord called us to minister to the "Least of These" in our area while we were on our annual Vision Retreat in 2015. A Vision Retreat is a time when we get away for a few days to pray and talk about what we believe the Lord wants us to accomplish. Then we plan specific action steps to make sure we get those things done.
During one of our prayer times, the Lord laid the idea for this ministry on both of our hearts. At the time, we had no idea what to do or how to even get started, but we knew we wanted to say "yes" to the Lord even if we were unsure about the details.
Not long after our Vision Retreat we were talking with a friend at church, Mr. AJ, and we told him about everything and we said that we just really didn't know how to get started. So, we asked him to pray for us. Later that week Mr. AJ was telling his friend Brian about our story to see if he had any ideas for us. He did not, but the next day Brian was getting his oil changed and struck up a conversation with the lady sitting next to him in the waiting area. They started talking about Jesus and Brian invited her to help with a nursing home ministry that he does weekly and she agreed to go. Mr. AJ also helps with the nursing home. The lady started talking about another ministry she's involved with that (can you guess) >> HELPS THE HOMELESS!!! Mr. AJ tells her all about us and gets her contact information so that we could get in touch with her. "That lady" is now our wonderful friend Ms. Dianne and we are so thankful that she was getting her oil changed that day!
One week from the time we asked Mr. AJ to pray for us, he handed us Ms. Dianne's business card and said that we HAD to call her.
"The heart of man plans his way, but the Lord establishes his steps." Proverbs 16:9
"But Jesus looked at them and said, "With man this is impossible, but with God all things are possible." Matthew 19:26
Isn't God good?!
We called Ms. Dianne and she told us all about her ministry and said she would absolutely love for us to get involved. She helps with the breakfast services on Saturdays at New Sunlight Baptist and at the time several different groups from that church were providing the meal on their designated weekend, except for one group that was responsible for two weekends every month. So, we prayed about it and then asked them how they would feel about us taking over one of their two weekends, and they were more than happy to oblige. They said it was an answer to prayer.
Once the word got out that we were doing homeless ministry, another friend approached us and said there's a bunch of folks that do homeless ministry under the bridge on Sundays and that they're looking for a new group to take over one of the weekends. So, again we prayed about it and decided to say "yes" to the Lord.
"But for this purpose I have raised you up, to show you my power, so that my name may be proclaimed in all the earth." Exodus 9:16
We are passionate and committed to seeing lives changed by and for Christ and we absolutely LOVE being His hands and feet! We believe the Great Commission is a call to action for all believers and we believe the two greatest commandments of loving God and loving people should be our focus. This ministry has turned into a true blessing not only to us, but to everyone that has been involved! The Lord has been faithful to continually send volunteers and provision ever since we said "yes".
We currently serve the local homeless population by providing a meal, a message, worship, and prayer in downtown Baton Rouge.
Billy and Erin Foster along with their four children live, worship, and serve in the Greater Baton Rouge area. They are a fun couple who enjoy playing sports with their children, riding their motorcycles, and listening to good music. Billy has a Master's Degree in Christian Counseling and Erin is passionate about Praise and Worship.